Regular price
Sale price
€3,00
Unit price
per
Sale
Sold out
Proteins are an essential component of our body and perform multiple functions: they are necessary for the growth and the maintenance of muscle tissue, they control many processes in the body in the form of hormones (insulin, glucagon) ed enzymes, contribute to the immune system (antibodies) and are involved in the transport of oxygen and nutrients.

At a sporting level the function of greater interest is that plastic, that is to say provide the amino acids which are used for tissue growth and repair processes and energy, provide 4 kcal/g in case of intense and prolonged muscular work or in case of negative energy balance.
WHEYß+ is a food supplement consisting of whey protein concentrate ad high biological value, which present ahigh percentage of amino acids and boast an excellent presence of branched chain amino acids (BCAA). WHEYß+ are proteins a half-rapid absorption (approximately 1 hour / 1 hour and a half after intake) and present a high solubility and one good digestibility.
WHEYß+ is enriched with Proβios Matrix, mixture of nucleotides and probiotics including Bacillus subtilis from Bacillus coagulans. These probiotics are capable of survive up to the intestine where, also thanks to their ability to adhere to the epithelium, they manage to settle and replicate. The Bacillus coagulans and the Bacillus subtilis natto, are capable of "locking up like a hedgehog" when the environmental conditions become unfavorable and return to the vegetative state when the external environment returns suitable. This natural protective structure allows them to survive not only gastric acidity, but also environmental factors and/or factors related to industrial production such as heat, humidity and mechanical stress.
The best time to hire WHEYß+ whey protein has been spotted in the pre- and post workout, as it seems improve the ability to recovery and adaptation to training and allows to optimize strength and muscle mass. The pre-exercise phase must, in any case, comply with the digestive timing, or an adequate time distance from the exercise, such as to allow a good digestion of nutrients.
View full details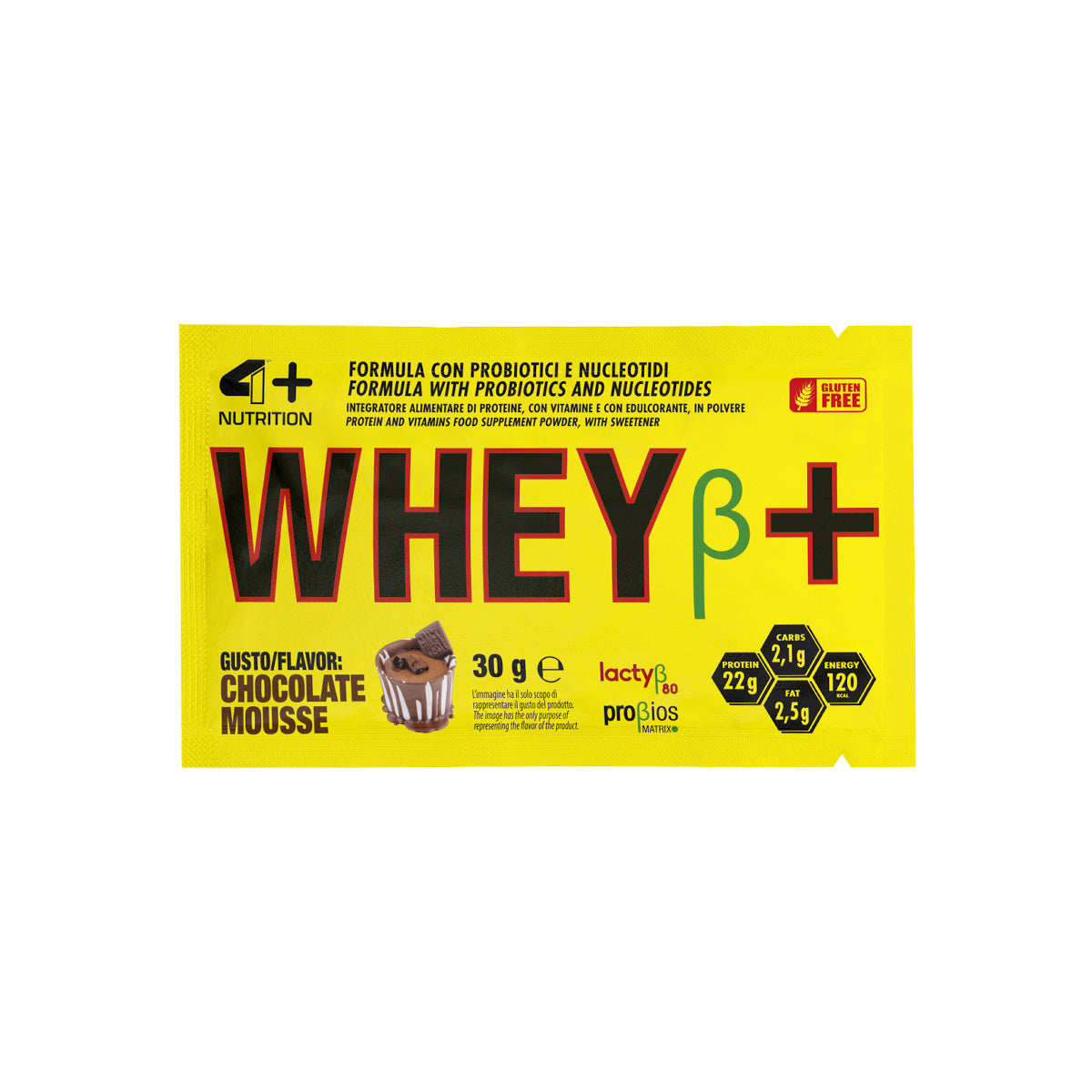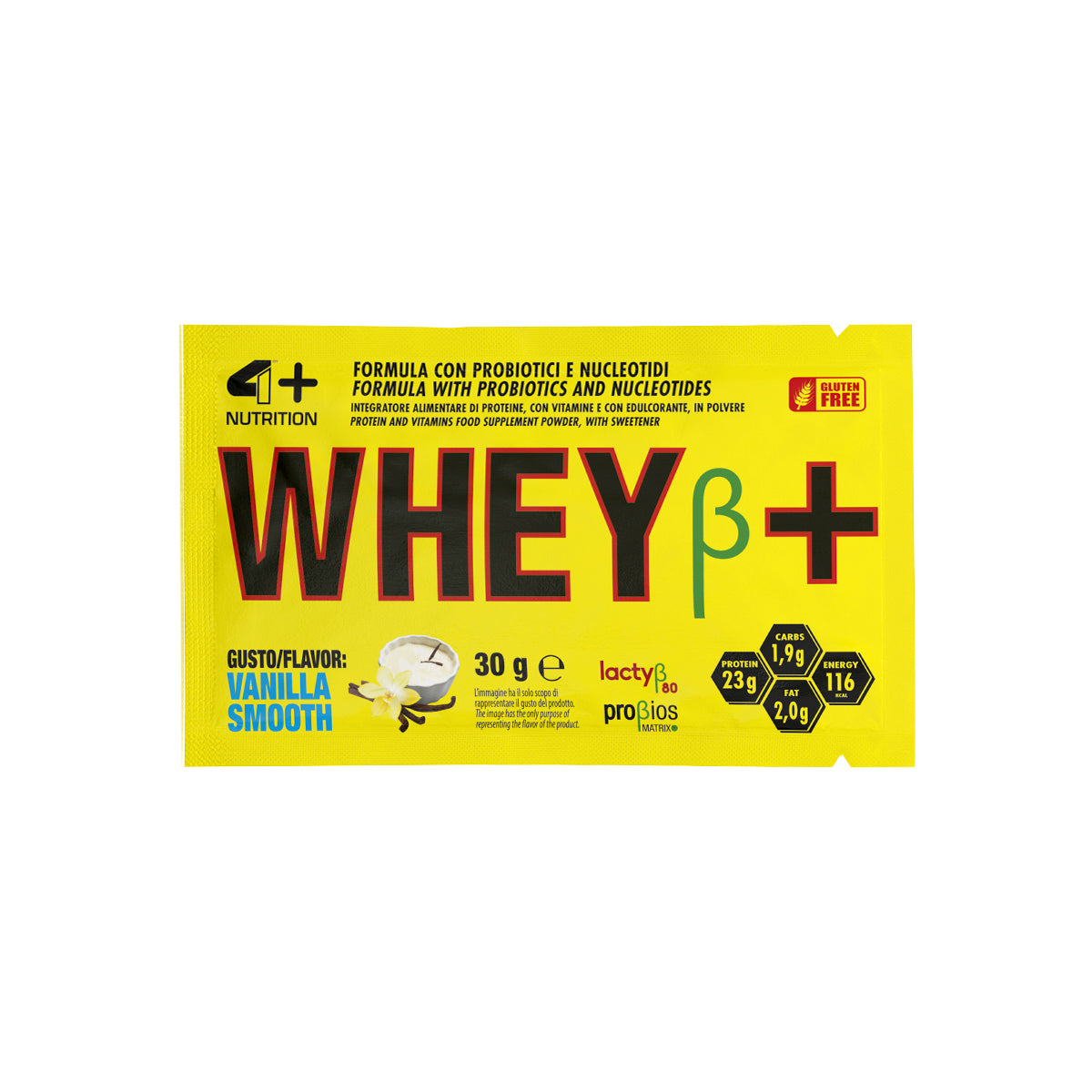 Massima crescita muscolare
WHEYβ+ fornisce proteine di alta qualità che favoriscono la crescita e il mantenimento del tessuto muscolare, ottimizzando i tuoi risultati nell'allenamento.
Recupero rapido dopo l'allenamento
Con WHEYβ+ puoi accelerare il processo di recupero muscolare grazie alla sua formulazione a medio-rapido assorbimento, permettendoti di essere prontamente pronto per il tuo prossimo allenamento.
4+ FOCUS CON IL NUTRIZIONISTA GIACOMO ASTRUA
Cos'è MGK+ Liquid? Come si usa? Te lo spiega in questo breve video il nutrizionista Giacomo Astrua, che analizzerà con noi caratteristiche e benefici di MGK+ Liquid.
Migliora la forza e l'adattamento all'allenamento
Grazie alla combinazione di proteine concentrate del siero del latte e aminoacidi ramificati (BCAA), WHEYβ+ aiuta a migliorare la forza muscolare e l'adattamento all'allenamento, consentendoti di superare i tuoi limiti.
Sostegno al sistema immunitario
WHEYβ+ contiene una miscela di nucleotidi e probiotici che contribuiscono a rafforzare le tue difese immunitarie, proteggendoti dagli agenti esterni e mantenendo il tuo corpo in uno stato di salute ottimale.

COSA PENSANO GLI ATLETI DI BEET+
Marco Cassetta
Giocatore di padel
"Ho iniziato ad assumere BEET+ prima delle mie partite di padel, e devo dire che ho notato un netto miglioramento delle mie prestazioni. Grazie alla sua formula innovativa, BEET+ mi ha permesso di avere un'energia costante durante tutta la partita, senza cali di concentrazione o fatica muscolare"
So many things need to be taken into consideration: your dress, shoes, underwear (you know it), hair, skin, makeup. With all the planning and preparations, no one will blame you if a detail goes wrong, but it is likely that you do not want to take that risk.
So many things need to be taken into consideration: your dress, shoes, underwear (you know it), hair, skin, makeup. With all the planning and preparations, no one will blame you if a detail goes wrong, but it is likely that you do not want to take that risk.
Raggiungi il tuo massimo potenziale
La combinazione unica di nutrienti e estratti di BEET+ può aiutarti a raggiungere il massimo potenziale durante l'allenamento, migliorando la tua resistenza, forza e recupero.
Facile da digerire e assorbire
Le proteine del siero del latte presenti in WHEYβ+ sono altamente solubili e digeribili, consentendo al tuo corpo di beneficiare rapidamente dei nutrienti essenziali per il recupero muscolare e l'energia.
PERCHÈ SCEGLIERE 4+ NUTRITION
CONSEGNA RAPIDA E PUNTUALE
Consegna entro 2/3 giorni lavorativi con corrieri Express.
QUALITÀ CERTIFICATA MADE IN ITALY
Filiera produttiva italiana, dalla realizzazione del prodotto alla sua immissione nel mercato.
AMPIA SCELTA DI INTEGRATORI
Vasta gamma di prodotti pensati per soddisfare le esigenze di ogni tipologia di sportivo.
ACQUISTA INSIEME A WHEYβ+